Project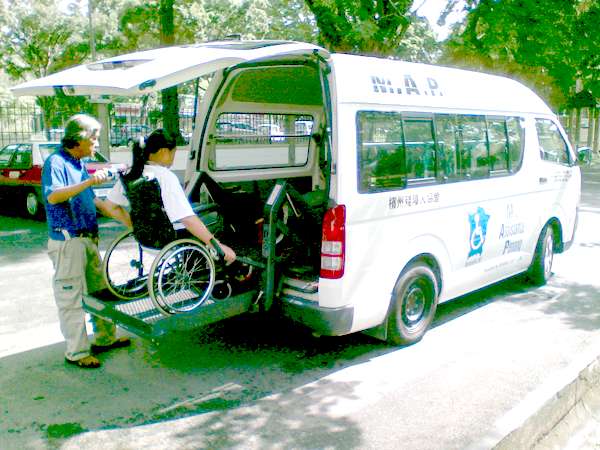 The project was started on September 24th 2000, after the representatives from Society of the Disabled Persons Penang (SDPP) met representatives from the Church of Lady of Sorrow to discuss the mobility problems of disabled persons. At the end of the discussion, SDPP was requested to prepare a paper to outline a possible solution to the problem. This is how the project was started. It was suggested to call this project ^Mobility Assistance Penang ̄ (MAP).
Although there is no statistic to the number of working disabled persons, it was estimated that at least 15% of the 6000 disabled persons registered with the Welfare Department of Penang are working or engaged in small business activities. (Among 250 members of SDPP, about 25% are working or engaged in small business activities.) We believe more disabled persons will work if their transportation problems are lessened.
The following is the initial details of the project but it has been fined tuned it to suit the current situation.
The basic hardware of MAP is a specially converted wheelchair friendly van that goes around to the home of disabled persons to fetch them to the place they want to go. The driver of the van will assist the disabled person (e.g. blind person or wheelchair user) into the van and drop him off at the exact location requested by him. After that, at the prearranged time and place, the van will fetch the disabled persons back home.

MAP service will cover the regular users, such as fetching a working disabled person to work everyday; or special one time request, such as fetching a disabled person to the bank. On weekends or public holidays, the van can also fetch group of disabled persons to shopping malls or other recreational centers.
For the regular users (e.g. those who go to work or regular medical check-up), MAP will arrange a timetable similar to that of school bas system. MAP will consider the address and work time of the users and develop an optimum van route to pick up each user. MAP must also consider the time allowance needed to help the customer in and out of the van. The objective is to make sure that the users arrive in time safely.
Anyone requiring our service can just phone the administrator at MAP office. The administrator will coordinate the schedule between the users and the driver as well as manage the whole MAP unit. The van driver reports to the administrator and the administrator in turn reports to a steering committee. The MAP steering committee should be made up representatives from SDPP and the donor.
For a start, MAP should offer its service to those who are completely inaccessible to public transport system (e.g. wheelchair users). But gradually MAP should expand its service to cover people with mobility problems including the elderly.