Source: The Star 28-06-2016
243 Motorists penalised in first five months
.
THE Penang Island City Council (MBPP) took action against 243 able-bodied drivers who parked their cars in designated parking lots for
the disabled between January and May.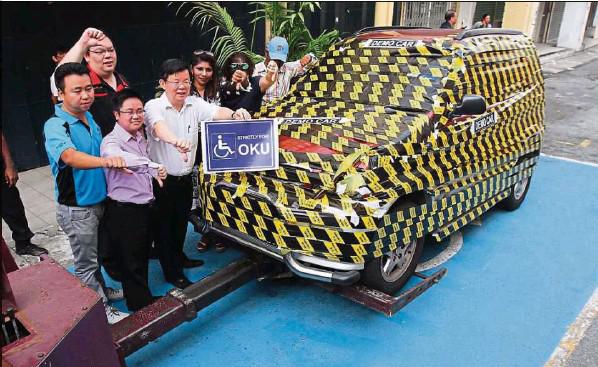 Chow (holding OKUu sign), MBPP councillors and other guests
giving the thumbs down during a demonstration on a car
being towed away during the disabled-friendly campaign
at occupy Beach street.
Councillor Chris Lee said 220 were issued traffic summonses of RM100 each, nine had their vehicles towed away while 14 others had their wheels clamped.
He said those who had their cars towed away had to pay RM100 for towing charges while owners who had their cars clamped would pay RM50 for clamps to be removed.
Lee said the authorities were now looking at standardising enforcement on those using parking spots meant for the disabled.
"The public can call us the moment they see car owners without 'OKU' stickers parked at the designated spots.
"We take the issue seriously," he said, adding that the council has 54 such lots as of now and that the number would be increased.
"We want to tow every car parked at the 'OKU' lots but we have limited tow trucks."
Speaking to reporters after state Local Government Committee chairman Chow Kon Yeow had launched a disabled-friendly campaign by the council at Occupy Beach Street in George Town on Sunday, Lee said state authorities were serious in addressing the issue.
Among the activities to promote the campaign was a demonstration by the council in towing away a car that was parked at a spot for the disabled.
A group of people were also blindfolded before they walked on the tactile pavement at pedestrian walkways meant to facilitate the blind in traversing Beach Street.
Wong said the activities were meant to create awareness that the public should share the five-foot ways and road pavement with the physically challenged.
He said they also organised games and quizzes for children on traffic rules. "Do not simply park your motorcycles or cause obstruction at five-foot ways that could cause inconvenience to the disabled. "We have been upgrading on the facilities and features meant for the disabled in the city," he said.
Also present were the council's Public Education Committee alternate chairman Wong Yuee Harng and Financial Management Committee alternate chairman Joseph Ng.