Source: The Star 11-03-2016
Parking space for OKU taken up by drivers with fake parking stickers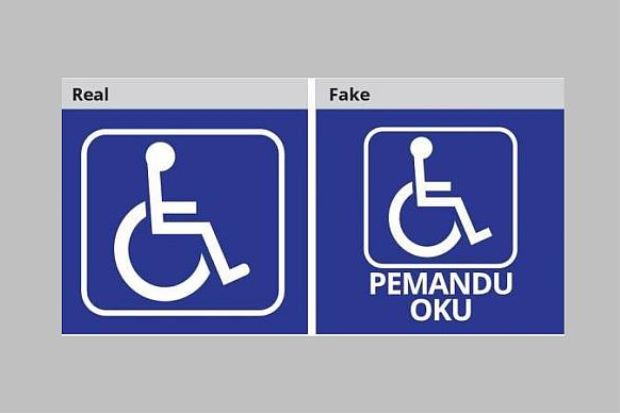 PETALING JAYA: Disabled motorists are facing a hard time finding parking space following the sale of fake disabled parking stickers.

Members of the Damai Disabled Person Association had complained of such cases in several places across Kuala Lumpur and the Klang Valley, especially at shopping malls and commercial areas.

The fake OKU stickers are being sold openly at several hardware shops for between RM7 and RM20.

Damai Disabled Person Associa­tion Malaysia president V. Muruges­waran said drivers with disabilities could only obtain the authentic stickers from the Road Transport Department (RTD) after getting their condition assessed.

"We are sad that there is also lack of enforcement by the local authorities. It seems that the irresponsible drivers are not worried about being fined," he said.

Apart from stricter enforcement, he also urged local authorities to introduce higher penalties to deter unregistered vehicles from parking at areas reserved for people with disabilities.

"We hope the authorities can also consider introducing a system similar in Germany or other countries where a machine will be able to send photos of vehicles without proper stickers immediately to the police or the local authorities," he said.

Meanwhile, a check at hardware stores around here showed a few were selling OKU stickers to the public, when only the RTD is autho­rised to issue these.

A shopkeeper at a do-it-yourself store in Bangsar said it had a variety of OKU parking stickers available for sale.

"We sell them for about RM10 to RM20," said the shopkeeper, adding that people could just walk in to buy the stickers.

H.C. Chan, who is the chief executive officer of Sunway Shopping Malls and adviser of the Malaysian Shopping Mall Association, said the use of OKU parking stickers was based on the trust system.

"If the sticker is seen, there is little that can be done. But if guards see a healthy person parking in the OKU space, they will take action," he said.