Source: The Star 10-06-2016
Providing a voice for Penangites
Action group aims to improve the public's wellbeing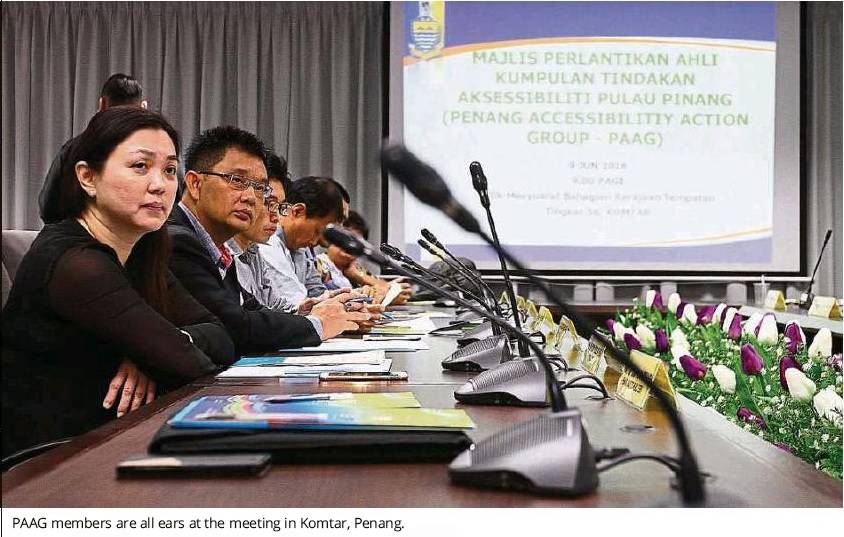 PENANGITES now have an avenue to voice their grievances over poor walkways and accessibility to places such as buildings and to provide suggestions for improvement.
They can approach the Penang Accessibility Action Group (PAAG) which was set up by the state government yesterday to improve Penang's accessibility and walkability, especially for the disabled, senior citizens, women and families.
PAAG aims to act as a platform for these groups of people to voice out problems they faced and their needs to the related authorities as well as to deliver their suggestions and perspectives for better walkability and accessibility in the state.
It is chaired by Pulau Tikus assemblyman Yap Soo Huey and has 20 members, including two physically handicapped persons, a visually impaired person and a hearing impaired person.
Also in the group are representatives from the Penang Island City Council, Seberang Prai Municipal Council and professional bodies such as the Real Estate and Housing Developers Association, Institution of Engineers Malaysia, Malaysian Architect Association and Penang Master Builders and Building Materials Dealers Association.
Yap said the group would work towards improving the accessibility and walkability level in the state.
"It's an official body appointed by the state government that people can go to when they have complaints or suggestions and we will be their voice," she said after the group's appointment by state Local Government and Traffic Management Committee chairman Chow Kon Yeow at Komtar.
She said among the group's objectives was to cultivate advocacy for the rights of marginalised groups.
"We want to create a check and balance mechanism in the structure of related authorities to monitor the efforts to improve accessibility in the state.
"Regular audits will also be done at selected buildings to ensure that they fulfil the required standard," Yap said, adding that PAAG would prepare an annual report of the progress it has made and present it to the state Local Government Committee.
She said PAAG would also look into ways to create awareness among the public and educate them on the matters.
For complaints and suggestions, the public can go to or call Yap's service centre at 34, Jones Road (Tel: 04-2263227) which is open from 10am to 5pm daily except Sunday, Monday and public holidays.