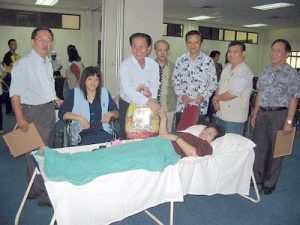 In conjunction with the "International Day of Disabled Persons", SDPP once again jointly organized Blood Donation Campaign with Buddhist Light International Association and Un Khuay Hoay Kuan on 5th December 04 in the premises of Bangunan Penyayang, Penang. The public response was encouraging and enthusiastic.
In her welcoming and addressing speech, the chairman of SDPP took the opportunity to thank our Deputy Prime Minister, Datuk Seri Najib Razak for mentioning that Acts for the protection of Disabled Persons would be tabled in the parliament next year. To disabled persons this was a happy news as with the passing of the said Acts, the welfare as well as the basic human rights for disabled persons would be safeguarded. The Chairman of SDPP also pointed out disabled persons were still inaccessible to many buildings because there were still unfriendly environment in the physical structures or constructions.
She quoted an example whereby disabled persons were often caught in heavy rain because there was lack of sheltered parking lots for disabled persons. It is general knowledge that disabled persons due to their physical handicap, their movements are slower and therefore, they take much longer time to get down from the motorbikes when they seek shelter in heavy downpour. In view of this, the Chairman urged the Authorities had understandings on the problems being faced by disabled persons. The activity of Blood Donation started from 9.30am to 2.00pm. There were about 60 donors .
The photos of the Blood Donation event on 5th Dec 2004 are as below: