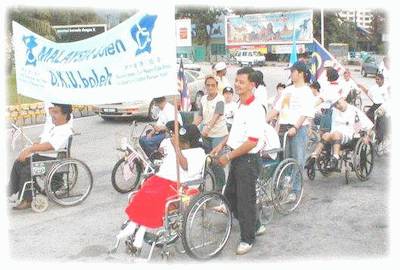 Formation of the Society of the Disabled Persons, Penang (SDPP)
Society of the Disabled Persons, Penang (SDPP) was established in 1988 by a group of disabled people in Penang, Malaysia. This organization is a non profit organization and managed by the members themselves.
Over the years, SDPP has been striving hard to fight for the rights of disabled people as well as guiding and encouraging disabled people, particularly those staying in Penang, to enjoy the rights and the freedom that they are entitled to in all aspects of their life. SDPP also commits to make Penang accessible to the elderly and the disabled.
Until today, SDPP has more than 250 members and the number is still growing. Fortunately and hopefully, with the support of all the members and respective authorities, SDPP will remain active, and even more enthusiastic to support each other and help those in need.
SDPP handles matters related to the benefits or the plight of the disabled and the under privileged irregardless of race, color, religion or social status of the party concerned. This is in line with the multi-racial society we are in and also in line with the objectives of SDPP.
SDPP has its own website now so that the public can have a better awareness and understanding on the plight of the disabled.